A remote management and control system for luminaires, efficient and customised for your installation.
It is a system of remote management and control of luminaires developed by NTE, with the aim of simplifying the complex systems that currently exist in the market, while expanding their possibilities with extra functionalities and great versatility of operation and Adaptation for each installation. The system can be implemented in any installation whose luminaires are dimmable with the 0-10V DC system.
In addition, it is designed to be fully scalable, so that the extension of an existing installation is fully compatible with the previous one, without having to change the elements already installed.
Every installation, large or small, is composed of the same elements (in greater or lesser number), being able to use all or only the minimum necessary.
The elements that make up a complete installation would be the following:
This is a physical device (hardware) that is responsible for controlling each element of the installation, as well as its correct operation and error detection, serving in turn as a communicator between the user and the installation, in which up to 255 different Masters can coexist.
By adding a light sensor (optional) to the installation, we can define a fixed amount of lux in the working area and the luminaires will automatically dim to the required intensity.
This is one or more intermediate devices between the masters and the luminaires or sensors. They are in charge of executing any task sent to them by the MASTER, as well as collecting information that can later be retrieved by the user.
Dimmable luminaires
0-10V DC
Although any luminaire is suitable, for maximum efficiency and energy savings, the use of LED luminaires from the NTE Efficiency series is recommended.
Any motion sensor on the market that is suitable for the installation in terms of sensitivity and ranges of operation and use can be used.
Our own computer application that allows us to programme or modify the behaviour of the installation, as well as to obtain information on its operation in real time or from the history it stores.
Different operating modes can be defined, both manual (the user decides whether to switch a luminaire on or off, as well as the power at which it does so), and an automatic mode, in which the luminaires are switched on by motion detection, at a set intensity and for a set time defined by the user.
After the detection and the set time, the luminaire would be switched off or dimmed to a preset value.
In automatic mode, we can define a desired lux level in the work area (including the brightness detectors in the installation), so that the selected luminaires will vary their power to achieve that minimum amount of illumination.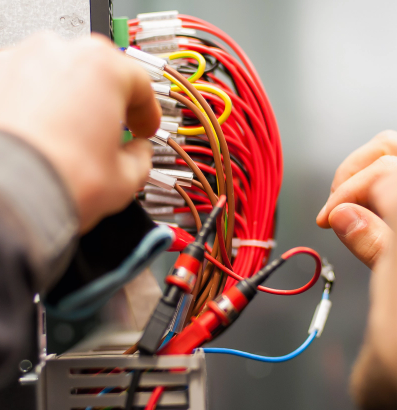 Operating programmes can be created, manual modes that switch on a luminaire or group of luminaires at a specific time and switch them off at another time periodically over time (between two set dates and times).
The creation of different programmes is 20 per channel for each actuator.
As an added option we can define special zone luminaires or "corridor lights", which will switch on when any presence detector is activated, regardless of whether they are associated with it or not.
A wide range of possibilities
Up to 255 NODES can be connected to each MASTER, with four channels for luminaires and four for sensors, for a total of
255 masters x 255 nodes x 4 channels = 260,100 elements of each type.
of each type, so a large installation is no problem at all. If more elements are required, a second network can be created with another 255 masters, and so on until the installation is complete, with the possibility of adding other types of sensors for specific installations that require them.
All functionalities in one software
This can be done from the keypad and LCD screen of the master by moving through the menu options or from our own software for PC platform (soon Web and mobile devices).
The software is intuitive and graphic, working directly on the installation plan.